A Non-Profit 501(c)(3) Organization

Serving Northern California
and Surrounding Areas



* NorCal Collie Rescue is California non-profit public benefit 501(c)(3) corporation C2798651 EIN 20-3381549.
Your donations are fully tax deductible.
Website Developed and Maintained by
Website to the Rescue



Collies Available for Adoption


Please read important information for prospective adopters at the bottom of this page!


Not all NorCal collies are listed on this page. We often work from a waiting list. If you are interested in adopting a collie, please send in an application[Click Here]. It often takes time to match each collie with just the right forever home. Thank you for your patience.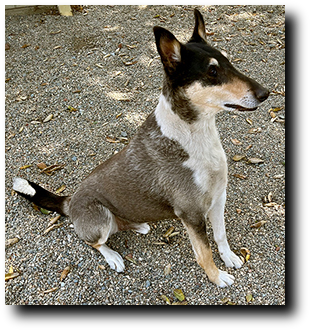 Kodie is mostly collie we think. He must have a pinch of something else in him, but your guess is as good as ours what it might be. He is a sable headed white, with blue merle markings. He is very unique and flashy.

He is sweet, and cuddly as a collie should be. Plus he is extremely smart!

Kodie is neutered, up to date on vaccinations and is perfectly healthy.

Kodie is one of the "Forest dogs" (see Pepper's story on this page) We think that Kodie and Pepper are siblings, or are related in some way. Although we think that Kodie acts a bit more puppy-ish, so we are putting his age at between 1 and 2 years old.

Kodie has been with our NCR trainer for about a month now. When he first came to us, he had never seen the inside of a house before. Naturally he was quite curious about everything. He has been living as a house dog for 2 months now. He no longer needs to stay in a crate when unsupervised. He has full access to all parts of his foster home. He can be trusted left alone inside the house, as long as there are no shoes laying around. Yes, he still likes to chew on shoes. He is crate trained.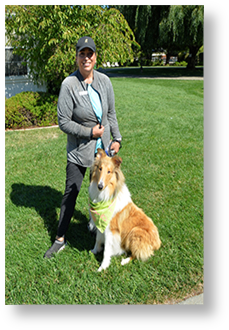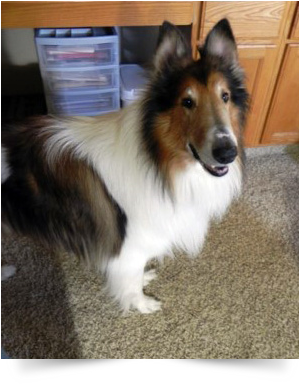 Kodie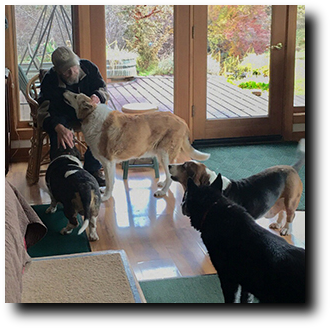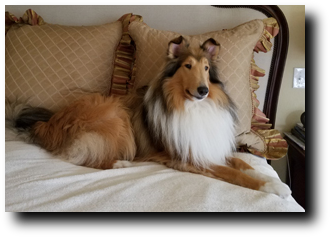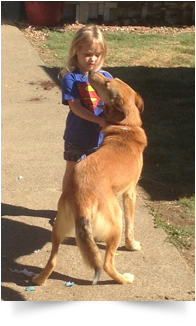 Kodie is GREAT with cats!! We were quite surprised that he has no real interest, in cats, and ignores them for the most part. No cat issues at all.

He loves to play with other dogs, but because he was starving in the forest, in order to survive, he became a little food aggressive. He and Pepper most likely battled over any scrap of food they found. He guards his food in certain circumstances with other dogs. Never with humans. For that reason, Kodie might need to be an only dog in his home, unless arrangements can be made to separate him when he is eating or enjoying a dog chew. He is not protective of toys or balls.

Even though we recommend he be an only dog, he does handle himself extremely well when playing with other dogs. He never fights, and always defuses any hostile acts by other dogs, by walking away. He just wants to run and play. He will need a lot of play time with dog friends. Everyday or several times a week at least. He will need to go to a home that has access to dog parks, or play dates very regularly.

He is good around large live stock like horses and goats, but he can not be trusted with chickens or any other birds or small live stock. He must have needed to hunt birds and chickens to survive when he was in the forest .

It is preferred that Kodie goes to an adult home. Or to a home with very dog savvy kids over 12. He loves to play fetch, and he really doesn't jump up on people, but he needs to continue his training with experienced, active adults.

He is a very busy type. Yet he settles down nicely in the house. He walks well on leash, but will pull if he sees something interesting. But is easily diverted back to his person when asked.He is a quiet dog. He hardly barks at all, but will alarm bark if he hears a the neighbor next door, or if someone is at the front door. Which is his job to do.

Kodie is full of JOY. Just a happy go lucky boy, with a sweet, fun personality. He is one of the most affectionate dogs you will ever have.

Kodie is looking for an experienced dog home. He would be a great jogging partner. He is very athletic... fast as lightning, and would be a wonderful candidate for agility or any dog sports. He even likes to swim!

If you think you have a place in your heart and home for Kodie, please fill out and submit our adoption application.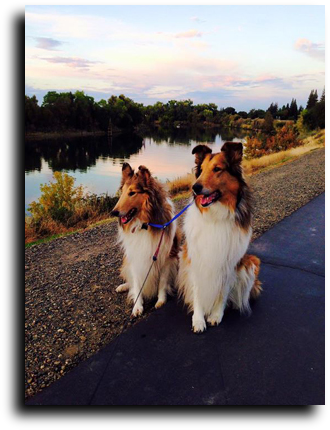 Coming Soon -- Medical Hold
The Cartwrights: Big Ben and Lil' Joe

These sweet boys were left at in the backyard of a vacant home for an extended period of time. While these are the "after" pictures, these boys came in to NCR in very bad shape. We are working to get them medically treated, evaluated and teach them basic manners before they will be made available for adoption.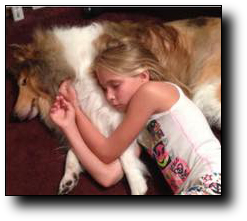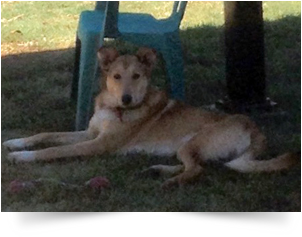 Big Ben
Lil' Joe
Merlin

2 year old, neutered male, blue merle. Healthy, happy and well behaved. We are reviewing all current approved and waiting adopters before making him available to new applicants.