A Non-Profit 501(c)(3) Organization

Serving Northern California
and Surrounding Areas



* NorCal Collie Rescue is California non-profit public benefit 501(c)(3) corporation C2798651 EIN 20-3381549.
Your donations are fully tax deductible.
Website Developed and Maintained by
Website to the Rescue



Collies Available for Adoption


Please read important information for prospective adopters at the bottom of this page!


Not all NorCal collies are listed on this page. We often work from a waiting list. If you are interested in adopting a collie, please send in an application[Click Here]. It often takes time to match each collie with just the right forever home. Thank you for your patience.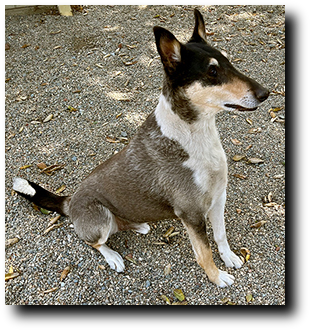 Little Missy is a 7 year old Pure Bred , spayed female collie. She is up to date on vaccines, and will be getting her teeth cleaned soon. She is a tiny thing, less than 50 lbs. and very beautiful as you can see. Tipped ears and a lovely coat. She has a delightfully cute personality. She is sweet, friendly and calm for the most part. She is not extremely active. So several walks, on leash, per week would be enough for her.

Missy was de-barked at some point in her life but it was botched (didn't work). So she does have a bark, but it is not as loud, and sort of raspy sounding.

But Missy does have some things that need to be addressed. She is living with 4 other dogs right now in her foster home, and 99% of the time, gets along fine with them, but she can be a bit bossy with them on occasion. She doesn't fight, she is just bossy and tries to be dominant. So she should be an only dog or go to a home that can deal with, and help her with this issue.

She is not good with cats. She has not been evaluated with children, so will not be placed in a home with kids.
She is good with my mini horse and goat. Doesn't attempt to chase or bother them at all.

Missy becomes reactive to things such as lawn mowers, and things like trash containers with wheels, when they are being moved. This is not uncommon in herding breeds. She sometimes will bite at your clothes, or snap at another dog if one is near by, while you are moving wheeled things. I don't know about you, but we mow, and move trash bins only once a week. So we just put her in the house while this is being done, and that solves the problem temporarily. But she does need to learn not to be so reactive. She is OK with the vacuum cleaner though, which is surprising. This behavior is called reactive, and transferred aggression. If she is not allowed near the rolling object, she will lash out at another dog if one is near by, or just bark continuously at the moving object. If she is allowed near the rolling object, she reacts to the human who is moving the rolling object, by biting at their clothes. This can be dangerous, so should not ever be allowed. This behavior can be helped with training. So for that reason, we are hoping that she can go to a home that has had some experience with this, and can handle her occasional re activeness.

She walks well on leash, and knows a few commands. Sit, stay, come, and go lay down, and more. She is totally house trained. Never an accident. She will take food items off of tables, and counters if she can reach them. She is short though so she cant reach much, and this behavior is trainable as well.

This beautiful little girl just needs someone who will understand, and love her. And someone who will work on her issues with her, using positive reinforcement training. She is a darling collie, who would make some lucky person a sweet companion. If you are interested in Little Missy, please fill out our adoption application and be sure to write her name on the form.

Her adoption fee will be $200.

You must live in Northern California, and no unprotected swimming pools.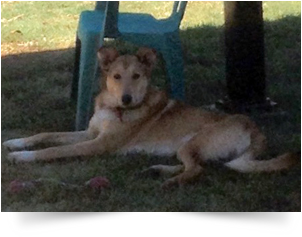 MISSY
EDDIE & ODIS

Eddie and Odis have been on medical hold while they were treated for skin and ear infections but they are now healed and ready for their forever home! These 7year old boys are neutered, debarked, vaccinated and heartworm negative. Eddie does suffer from allergies and Odis has "collie nose", discoid lupus, both of which can be easily managed. They are littermates and have been together their whole lives. We would like to try and place them together before we consider separating them. They can be a little shy at first but once they get to know you, they are typical velco collies that are all about the love. They are mellow, couch potato boys.

They are currently being fostered in Morgan Hill, CA.

If you live in Northern California and would like to get more information, please complete an online application. You may also email laurie@calcollierescue.org if you have questions.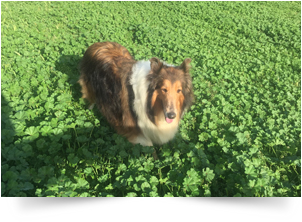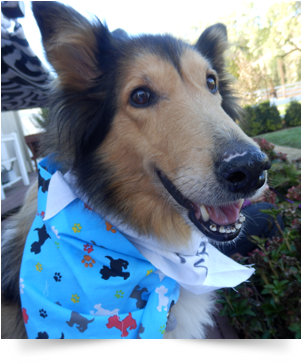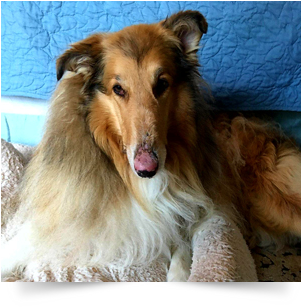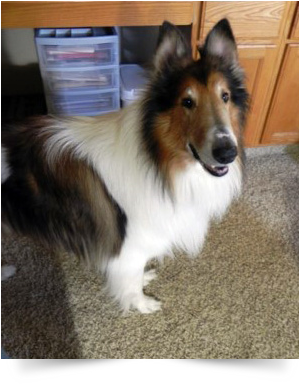 Eddie
Odis