NorCal Collie Rescue
NorCal Collie Rescue is a nonprofit corporation* founded by collie lovers who are dedicated to taking responsibility for collies at risk in northern California. Collies come to rescue from many sources, including animal shelters, death of the primary caretaker, people whose health has changed, breeders, divorce and many other circumstances.

Our volunteers take in and rehome collies in California, North of the Tehachapis. If you are in southern California, please contact Southland Collie Rescue. NCR will not ship collies or place them out of state, but we do collaborate with collie rescues adjacent to our area of coverage.

Please visit our About NCR page to learn more about our Organization.
Other collie organizations helping rescued collies in California: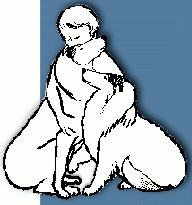 Collie Rescue Foundation



A Non-Profit 501(c)(3) Organization

Serving Northern California
and Surrounding Areas



* NorCal Collie Rescue is California non-profit public benefit 501(c)(3) corporation C2798651 EIN 20-3381549.
Your donations are fully tax deductible.
Website Developed and Maintained by
Website to the Rescue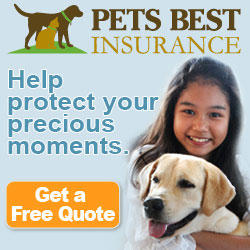 Get a Free Quote, and we get a Donation!

The long awaited CD by Rick Aeschliman, "The Road Home" is done and will be ready to ship in a few days. When you order Rick's wonderful CD, he will donate a generous portion of profit to our "Angel Fund".

The Angel fund was set up by Cathy Toft and Rick 10 years ago to help rescue collies that are elderly and others also in need of special medical care. Because there are reasonable limits on what we can ask regarding adoption fees for older and medically challenged collies, the adoption fee usually does not cover their medical expenses. To help cover expenses of collies regardless of age and medical condition, we have set up a special called "The Angel Fund" and is named for Angel, one of our elderly rescue collies who crossed over the rainbow bridge in 2007.

Rick dedicated this Album to the memory of Cathy Toft, one of the founders of NorCal Collie Rescue, who died in December of 2011. When the Angel Fund was set up Rick donated profits from prints of a painting he did called "The Road Home". It was a limited edition of 250 prints. Rick and Cathy held back 50 prints to be offered at a later date. Rick has decided to release the remaining 50 prints and give one free CD with every print sold.

GREAT NEWS FOR CELIA AND OTHER ELDERLY NCR COLLIES!
Click picture for larger image
This is a wonderful opportunity to own a CD or fine art print (free CD with print purchase) by Rick and help our elderly collies!

The CD blends the hauntingly beautiful sound of the Native American Flute with Rick's simple,
but effective acoustic guitar melodies. Great music therapy for dogs and human alike!

To order your CD or Print visit his website at: http://www.twodogsstudios.com/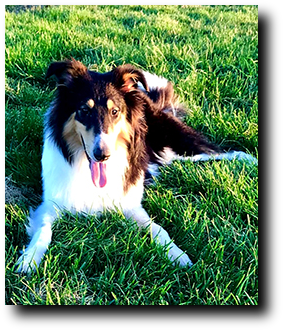 Rescued Collie Arrives from South Korea, Goes All "Lassie", Saves Owner
What better way to celebrate National Dog Day than with a story about Lassie? How about a story in which Lassie is actually Alice where Alice is a Collie rescued from a high kill shelter in South Korea who finds her way to California where she saves her new owner from harm? Because that is what happened. And between dogs from Spain becoming therapy dogs and helping start prison programs and Korean Collies saving lives...I just might have to start an "Immigrants are Making Our Canine Nation Great" category.


Alice's story begins in a shelter in South Korea where she had arrived as a stray. She was being held for a ten day period to allow any surfacing owners to find her. After the hold expired, she would be euthanized if left unclaimed. Team Inch volunteer Wendy Lee Williams was alerted to her presence by a collie-enthusiast friend and immediately went to work to provide rescue for her if needed. Team Inch, named for "Inch", a rescued greyhound, works to rescue sight hounds and larger breed dogs, partnering with rescues in Canada and the U.S. as finding safe forever homes in South Korea for larger dogs can be difficult to achieve.

Click HERE to read more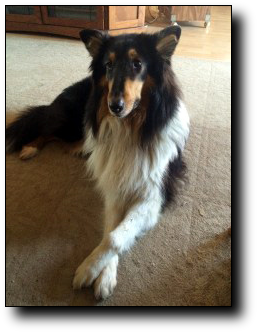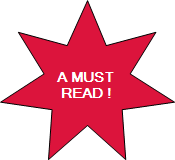 Buy one, buy them all. This annual NCR fundraiser supports our collies throughout the year. Be sure to only follow the link below to Cafe Press so that the full 50% of your purchase goes directly to our collies' care. (If you purchase through their ads on your Facebook page or browser, we do not receive the full percentage.) Please note that Cafe Press starts the calendars on the month you purchase, so be sure to click on the month you want your calendar to start. Rainbow Bridge calendars will be available in December.
Calendars on Sale for $29.99
2016 CALENDARS ARE HERE !